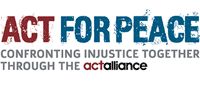 Volunteer Ecumenical Accompanier
Description

Thank you for applying to become an Ecumenical Accompanier with the Ecumenical Accompaniment Program in Palestine and Israel (EAPPI).
This application form is the first step in a thorough selection, training and fundraising process.
If successful, you'll be offered a deployment as an Ecumenical Accompanier (EA), where you'll spend three months living alongside communities under occupation in Palestine and Israel. Your role will be to provide a protective presence for families currently at risk of harassment and monitor human rights abuses. On return to Australia, you will use your firsthand experience to advocate for international pressure on decision makers to comply with humanitarian law and find long-term solutions to the conflict.
Before applying, please ensure you have read and understood the information in the EAPPI Information Guide here.
The deadline for applications is 4 July 2018. By applying you confirm that you are available to attend EAPPI's residential training course, which will be held between mid-August to mid-September 2018 (dates TBC).