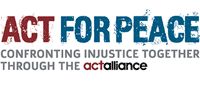 Description
Act for Peace is a leading humanitarian aid and development agency
Use your customer service skills to make a difference
Work with an award winning fundraising team
Full time permanent position
Location: Sydney CBD
Act for Peace is the international aid agency of the National Council of Churches in Australia and we act in partnership with other passionate people across the globe to achieve safety, justice and dignity in communities threatened by conflict and natural disaster.
Due to an increase in fundraising growth we are seeking a customer service specialist with an exceptional track record to join our award winning team. You are looking for a role where you can make a real difference to our supporters, work as part of a dynamic team and get passionate about our cause. Most of all, you're looking for a position that will give you the opportunity to use your extensive skills to create a real difference: in our team, in your organisation and in the lives of others around the world.
In this position you'll work as part of our team to provide exceptional supporter care through a combination of inbound and outbound telemarketing, written communications and campaign fulfilment. The successful candidate will have exceptional supporter care skills, solid customer service experience in both inbound and outbound query handling over the phone, excellent interpersonal skills and the ability to sensitively handle supporters. Experience using MS Office and database systems (Salesforce experience highly desirable), combined with excellent written and oral communication skills are essential for this position. Knowledge of charity fundraising, international aid and development will be highly regarded, but not essential.
This is a full time permanent position based in our Sydney CBD office. The salary will be negotiated depending upon the skills and experience of the successful candidate. Eligibility to work in Australia will be essential.
To apply, please download the Supporter Care Officer Information Pack and include in your application:
a 2-4 page covering letter addressing the Selection Criteria individually; and
your resume.
Applications close: Midnight Sunday 23rd July 2017
Interviews: Week commencing Monday 24th July 2017
Please contact Tracy Butler 1800 025 101 or tbutler@actforpeace.org.au if you have any queries.