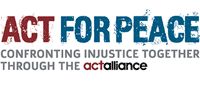 Communications and Social Media Internship (voluntary)
Description
You're an enthusiastic self-starter looking to gain hands-on experience in project management and various aspects of media and communications work, including multimedia production (specifically video production and photo editing). You have great interpersonal skills, a can-do attitude, good creative judgement, strong attention to detail, and the ability to manage projects end-to-end and deliver results on time and within budget. Most of all, you're looking for an opportunity to gain valuable experience in the international development sector and make a difference in the lives of others.
As the Social Media Officer, you will be responsible for creating and curating content to use across Act for Peace's Facebook, Twitter, and Instagram accounts. Content may relate to Act for Peace's long-term development work, emergency response, fundraising appeals or relevant breaking news. You will also help to prepare analytics reports evaluating the performance of our social channels, and participate as an active member of our communications team. Through these and other responsibilities, you will get first-hand experience skills in digital marketing, copywriting, photo editing, campaigning and fundraising.
During this six-month voluntary internship you'll develop your creative, communications and project management skills and be part of the day-to-day running of a busy international aid agency. The Marketing and Communication Department is currently implementing a growth strategy and designing new products so this is a great opportunity to get experience in strategy design and to be involved in projects from start to end. You'll also have the unique opportunity to make a real difference to some of the world's most vulnerable communities.
The role is flexible and varied and we are looking for someone who can work from our Sydney office for three days per week, from July/August 2017 through to December/January 2018.
About Act for Peace
Today, there are more refugees, asylum seekers and displaced people worldwide than at any time since World War II. That's more than 65 million people forced to flee their homes to escape conflict and disaster.
It's a terrible injustice. And one that we can, and must, overcome.
We believe that when people all over the world work together, big changes really are possible.
That's why we've made it our mission to act in partnership with other passionate people, like you, across the globe to achieve safety, justice and dignity in communities threatened by conflict and natural disaster. We don't think there's any task more important.
Over the past 67 years our supporters have provided food, shelter, education, healthcare and training to help the world's most vulnerable prepare for, cope with and recover from conflict and disaster.
Together we're tackling the root causes of injustice, and are building a brighter future for everyone. We hope that you'll join us in this vital mission.
Our Vision:
A peaceful world where all people share a safe, just and dignified life.
Our Purpose:
We empower passionate people to work together to achieve safety, justice and dignity in communities threatened by conflict and disaster.
How we work:
Humanitarian response: When an emergency occurs, we respond fast to give people what they need most to survive. We're in for the long-haul too, supporting communities in protracted crises or affected by natural disaster until they're able to get back on their feet. We also work with communities at risk to prepare in advance, which saves lives when disaster strikes.
Long-term development: Lasting change takes time. Your work will enable long-term development projects that help communities to tackle their own problems – whether that's giving girls a brighter future through education, helping farmers grow enough to eat, or supporting refugees to return home safely after a conflict has ended.
Advocacy and campaigns: Together, we mobilise governments and decision-makers to tackle the root causes of poverty and injustice, not just treat the symptoms. When we come together and speak with one voice, it sends a clear message that people in power can't ignore.
Working with partners: We believe local people are best placed to identify the problems faced by their communities and create solutions that work. So we partner with local organisations on the ground to achieve change. We're also part of the ACT Alliance, a global network of 140 like-minded organisations across 130 countries working together to share knowledge and resources, speak with a louder voice, and ultimately, achieve greater impact.
About the Marketing and Communication Department
Our FIA Award winning Marketing and Communications Department's purpose is to empower passionate people in Australia to give, fundraise and take action to achieve safety, justice and dignity in communities threatened by conflict and disaster.
We do this through a mix of direct marketing, relationship fundraising, events and campaigns.
By implementing successful strategies, our supporter base and fundraising income has been growing rapidly. Last year our fundraising income increased by 40%, and we have ambitious plans to do even better in the future. To help us do this, we're developing our team of fundraising, marketing and campaigning professionals; investing in new technology and building innovation and best practice in to everything we do.
Requirements
Key responsibilities:
Come up with original and engaging content ideas and deliver these across Facebook, Instagram and Twitter. To develop content, you will have access to Act for Peace's extensive photo, video and story resources collected from our international programs;
Monitor metrics like reach and engagement on Act for Peace's social media platforms, and make content recommendations based on performance;
Follow breaking news coverage to find compelling content to share via Act for Peace's social media networks;
Manage Act for Peace's multimedia library and resources. You will be responsible for editing, captioning and uploading images to the online database, ensuring all resources are accurate and up-to-date;
Play an active role in the Act for Peace Communications team and support the development of the Act for Peace's content marketing strategy.
Skills and competencies:
Demonstrated interest in communications, especially social media
Excellent organisational skills and attention to detail
Experience or interest in graphic creation
Strong writing skills, including precise grammar, punctuation, and spelling
Self-manager and self-starter
Excellent interpersonal skills
Commitment to social justice and the values of Act for Peace
Desirable Criteria:
Degree or qualification in relevant field
Knowledge of the Adobe creative suite including Photoshop and Illustrator
Prior experience in digital marketing
Reports to: Media and Communications Coordinator

DOWNLOAD THE INFO PACK

Benefits
What this role offers you:
Experience in communications, marketing and project management
An understanding of working in the development sector
Transferrable business, interpersonal and team working skills
The unique opportunity to make a difference to the lives of people and to rebuild lives around the world
Lunch and travel expenses will be reimbursed up to an agreed travel distance