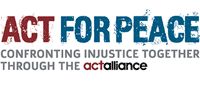 Business Development Manager
Description
Leading humanitarian aid and development agency – Act for Peace is the international aid and development agency of the National Council of Churches in Australia

Work with an experienced team

Full-time Position

Location: Sydney or Melbourne
Today, there are more refugees, asylum seekers and displaced people worldwide than at any time since World War II. That's more than 65 million people forced to flee their homes to escape conflict and disaster.
It's a terrible injustice. And one that we can, and must, overcome.
We believe that when people all over the world work together, big changes really are possible. That's why we've made it our mission to act in partnership with other passionate people, like you, across the globe to achieve safety, justice and dignity in communities threatened by conflict and disaster. We don't think there's any task more important.
Over the past 68 years our supporters have provided food, shelter, education, healthcare and training to help the world's most vulnerable prepare for, cope with and recover from crisis.
Together we're tackling the root causes of injustice, and are building a brighter future for everyone. We hope that you'll join us in this vital mission.
We are currently looking for an experienced Business Development Manager to join our dynamic and experienced team.
Our Business Development Manager (BDM) is experienced in developing opportunities for securing institutional funds for programs and advocacy initiatives. Our BDM will have a track record in the research and development of non-traditional funding opportunities, an entrepreneurial mindset, and experience in securing funding through government/ NGO/ philanthropic grant mechanisms. Our BDM will have excellent stakeholder management skills- including the ability to develop strong relationships with government, public and private sector stakeholders. Our BDM is a team player, organised, strategic yet with an eye for detail, and ready to take a risk on doing something new.
Requirements
Solid understanding of the international and local fundraising context, including key pressures and opportunities for the future.
Success in building business opportunities through innovative ways of working. Demonstrated experience in development of new business opportunities, other than direct grants.
Success in developing strategic relationships with institutional funders across several sectors to influence policy, program and fundraising outcomes.
Significant track record of success in working with a multi-disciplinary team to develop fundraising proposals. Participation in tender processes, negotiating contracts and accountability through reporting. If selected for interview we will invite you to bring two examples of tender documents you have written, or led a team to produce.
Demonstrated program design or implementation experience in the following areas: humanitarian protection programming with a focus on refugee and displaced populations; climate change adaptation and community based disaster risk reduction; development programming within a protection framework; civil society strengthening.
Demonstrated ability to proactively develop business processes, including mapping and workflow and systems efficiency and well as information management systems, with an eye for accuracy, quality and detail, and an ability to engage a range of stakeholders to achieve a project goal. Excellent organisational skills, including ability to plan, organize, prioritise, to work independently and be part of a team. Strong administration skills. Demonstrated budgeting skills. Excellent communication skills in written and spoken English.
Demonstrated ability in mentoring and training, dissemination and implementation of systems, tools and processes.
Intermediate level knowledge of monitoring, evaluation and learning frameworks as applied to humanitarian and development initiatives.
A comprehensive understanding of compliance issues and requirements for DFAT Accreditation, ACFID Code of Conduct, and sectoral standards.
Adept knowledge and ability to develop and use CRM software databases and skills in Microsoft Office. Advanced writing, editing and document formatting skills.Strong IT capacity and ability to adapt to new systems
You will need to upload a copy of your resume and a covering letter detailing how you meet the selection criteria with your application.
Please download the information pack for full details.
Applications close: 30th June, 2019
Please contact Janet Cousens on 0410-676-007 or [email protected] if you have any queries. Thank you for your interest in this position.
Act for Peace prioritises the safeguarding of all people, including the prevention of sexual exploitation, abuse and harassment, and the protection of children. Employment is conditional upon the outcome of an Australian Federal Police Background check, as well as an equivalent police background check for any country in which the applicant has lived for more than 12 months during the last five years. Our policies, including our Child Safeguarding Policy and Code of Conduct can be found at: http://www.actforpeace.org.au/our-policies