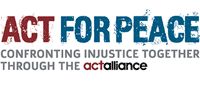 Description
Act for Peace is a dynamic humanitarian aid and development agency
Create and deliver content that inspires people to take action for global justice
Be part of an experienced, award-winning department
Permanent, full-time position
Location: Sydney CBD
Today, there are more refugees, asylum seekers and displaced people worldwide than at any time since World War II. That's more than 65 million people forced to flee their homes to escape conflict and disaster.

It's a terrible injustice. And one that we can, and must, overcome.
We believe that when people all over the world work together, big changes really are possible. That's why we've made it our mission to act in partnership with other passionate people, like you, across the globe to achieve safety, justice and dignity in communities threatened by conflict and disaster. We don't think there's any task more important.

Since 1949 our supporters have provided food, shelter, education, healthcare and training to help the world's most vulnerable prepare for, cope with and recover from crisis.

Together we're tackling the root causes of injustice, and are building a brighter future for everyone. We hope that you'll join us in this vital mission.
We are currently looking for a Junior Content Producer to create and execute engaging content that will inspire people to do more, give more and stay longer in the fight against injustice. If you're a highly driven, tech-savvy and creative person with a heart for social justice and a passion for telling stories that matter, then this is the job for you.

Working within the scope of Act for Peace's content strategy, the Junior Content Producer will be responsible for delivering print and digital content projects, with a focus on video, imagery and written content across a range of engagement, fundraising and advocacy campaigns. You'll also play a lead role in delivering and implementing our social media strategy.
You'll plan and organise Act for Peace's content gathering trips to our international programs to source photo and video material and share this internally via our online media library. You'll also work within a collaborative team to create owned content that will be distributed across multiple channels - including social media, website, print, and email - reaching tens of thousands of people each month.
As well as keeping up to date with the latest digital marketing trends, you'll be learning from an award-winning, motivated and experienced team and using your skills in content creation to make a big and growing contribution to achieving safety, justice and dignity in communities around the world threatened by conflict and disaster.
Requirements
Full details including detailed selection criteria can be found in the Information Pack which you can download here.
Applications now open

Please contact 1800 025 101 or [email protected], if you have any queries. Thank you for your interest in this position.

Act for Peace (AfP) is committed to the safety and best interest of all children and young people accessing AfP supported services, programs and workplace. The preferred candidate is advised that they will be required to sign a Child Safeguarding Policy and AfP reserve the right to conduct police checks and other screening procedures prior to employment being confirmed.