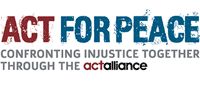 Monitoring and Evaluation Officer
Description
To apply, please email to jobs@ncca.org.au and cc to mlaufer@actforpeace.org.au
a covering letter addressing each of the required and desirable Selection Criteria individually and your CVApplications open: 9 June 2017Applications close: 9am 26 June 2017
Interviews will be scheduled during the week starting 3 July 2017. A commencement date 21 August 2017 is preferred, depending on the candidate's availability.
Please contact Meg Laufer on mlaufer@actforpeace.org.au if you have any queries.
Unfortunately due to the number of applications we usually receive we are only able to respond to those selected for interview.
About Act for Peace
AfP is the international aid and development agency of the National Council of Churches in Australia (NCCA), a council of 19 member churches. Our vision is for a peaceful world where all people share a safe, just and dignified life. Our purpose is to empower passionate people to work together to strengthen the safety, justice and dignity of people affected by conflicts, disasters and forced displacement.
The Policy and Programs Team (PPT) works with partners to support a range of humanitarian and development initiatives including program implementation, organizational development and advocacy, assisting partners working with communities in, or displaced from, Syria, Palestine, Zimbabwe, Ethiopia, Sri Lanka, Myanmar, the Philippines, Afghanistan, Pakistan, Indonesia, Tonga and Vanuatu. For more information about AfP, visit: www.actforpeace.org.au
AfP is a member of the global ACT Alliance which provides development and humanitarian assistance in more than 140 countries - enabling us to respond immediately to emergency situations and to advocate with global resources. For more information about the ACT Alliance, please see www.actalliance.org
About the position
The Monitoring and Evaluation Officer (MEO) will play a key role in the Act for Peace (AfP) Effectiveness Team, which focuses on the development of effective systems and procedures to enable AfP's work.
The Effectiveness Team works to increase the effectiveness of AfP's program work by ensuring relevant resources are in place to enable all members of AfP's Programs and Policy Team (PPT) to work according to agreed policies and procedures, to monitor, report on and learn from our work, to ensure adequate data management and to ensure we meet our compliance obligations. The MEO will support the Program Team in the roll out and implementation of performance effectiveness specifically monitoring, evaluation and learning (MEL) and reports.
The Monitoring and Evaluation Officer will report to the Performance Effectiveness Manager and work closely with other roles within the Programs and Policy Team. The MEO supports staff across the programs department.
Requirements
Qualifications and experience
Required
University degree in related discipline (humanitarian affairs, social science, human rights, public health, development studies)
Experience in the humanitarian or development field
Experience in undertaking monitoring and evaluation
Experience in data management and analysis
Passionate and experienced in using technology/software to facilitate learning and development effectiveness
Demonstrated ability in training and mentoring staff
Excellent written and verbal communication skills
Desirable:
Experience using Socialsuite, Salesforce, or other online data management platforms
Competencies
Stakeholder relationship development: ability to establish and maintain respectful relationships with all stakeholders in a multi-cultural, multi-faith environment with sensitivity and respect for diversity; ability to grasp and analyse issues from different perspectives
Community development: understanding and experience of international development
Technology: fully proficient computer skills and use of relevant software and other applications, ability to provide technical expertise to staff
Ability to share technical information with team members and partners in a manner that inspires them to adopt and adapt learning to their particular work based priorities
Planning and organising: ability to meet tight deadlines, handle concurrent projects/activities and balance, prioritise and adjust changing workloads; capacity to follow Act for Peace knowledge management/ record keeping systems
Demonstrable problem-solving skills: ability to use sound judgment in applying technical expertise to a range of issues/problems, with sounds analytical skills
Communications: excellent spoken and written English communication skills; excellent multimedia documentation skills
Teamwork: generous team spirit; excellent interpersonal skills; capacity to work with remote stakeholders
Commitment to continuous learning: willingness to keep abreast of new developments in the humanitarian sector and share within the agency where appropriate
Our selected candidate will:
Have required visas to work in Australia (visa sponsorship is not available)
Be able to undertake international travel, and work irregular hours when necessary.
Have a friendly, positive and respectful approach to work and the ability to work with staff with different competencies and local in-country partners with high and low capacity.
Commit to the values and purpose of AfP and the NCCA as a whole, including sympathy with the values of the Christian faith, and commitment to equal opportunity, diversity and equity.
AfP is committed to the safety and best interest of all children and young people accessing AfP supported services, programs and workplace. The preferred candidate is advised that they will be required to sign a Child Safeguarding Policy, and undertake a Police Check and Working with Children check prior to employment being confirmed. For the full Child Protection Policy and Code of Conduct please see: www.actforpeace.org.au/About_Us/Our_Policies/Our_Policies1.aspx
Benefits
The position a is permanent position with an annual salary expected of $63,000 (plus superannuation). Salary packaging is available. Salary will be negotiated depending upon the skills and experience of the candidate.