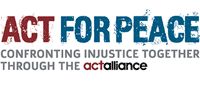 About Act for Peace
Today, there are more refugees, asylum seekers and displaced people worldwide than at any time since World War II. That's more than 65 million people forced to flee their homes to escape conflict and disaster.
It's a terrible injustice. And one that we can, and must, overcome.
We believe that when people all over the world work together, big changes really are possible.
That's why we've made it our mission to act in partnership with other passionate people, like you, across the globe to achieve safety, justice and dignity in communities threatened by conflict and natural disaster. We don't think there's any task more important.
Over the past 67 years our supporters have provided food, shelter, education, healthcare and training to help the world's most vulnerable prepare for, cope with and recover from conflict and disaster.
Together we're tackling the root causes of injustice, and are building a brighter future for everyone. We hope that you'll join us in this vital mission.
Our Vision
A peaceful world where all people share a safe, just and dignified life.
Our Purpose
We empower passionate people to work together to achieve safety, justice and dignity in communities threatened by conflict and disaster.
How We Work
Humanitarian response: When an emergency occurs, we respond fast to give people what they need most to survive. We're in for the long-haul too, supporting communities in protracted crises or affected by natural disaster until they're able to get back on their feet. We also work with communities at risk to prepare in advance, which saves lives when disaster strikes.
Long-term development: Lasting change takes time. Your work will enable long-term development projects that help communities to tackle their own problems – whether that's giving girls a brighter future through education, helping farmers grow enough to eat, or supporting refugees to return home safely after a conflict has ended.
Advocacy and campaigns: Together, we mobilise governments and decision-makers to tackle the root causes of poverty and injustice, not just treat the symptoms. When we come together and speak with one voice, it sends a clear message that people in power can't ignore.
Working with partners: We believe local people are best placed to identify the problems faced by their communities and create solutions that work. So we partner with local organisations on the ground to achieve change. We're also part of the ACT Alliance, a global network of 140 like-minded organisations across 130 countries working together to share knowledge and resources, speak with a louder voice, and ultimately, achieve greater impact.